Description
The Wireless Smart Eye Massager is a new generation eye massager that uses scientifically proven thermal, acupoint, and vibration massage to help reduce headaches, sleeplessness, eye bags, wrinkles, and regular eye fatigue.
It's essentially a miracle remedy capable of providing instant comfort and addressing all eye-related issues.
Constant screen glare, poor or a lack of sleep, and generally neglecting to care for your eyes are a recipe for the appearance of dark circles, puffiness, under-eye bags, and dry, itchy eyes. Our eyes are what we use to see the world, so why are we wasting hundreds of dollars on creams that are rarely effective or make up to cover up their appearance when you can solve your eye problem once and for all with our Smart Eye Massager?

Our Smart Eye Massager is designed with smart air pressure vibrations and an intelligent heat compression function to help give your eyes some much-needed relaxation after a long, tiring day of overuse. Notice the results and difference only after a few uses! Improve your eye health easily from the comfort of your own home and stop those pesky dark circles and puffy eye bags!

Features
Intelligent Air Pressure Massage
 Effectively relaxes the muscle and nerves at acupuncture points around your eyes to relieve eye fatigue and pain by massaging the muscles around the eyes by properly matching between air inflating and air releasing.


Smart Heat Technology
 Using a heat compression function to speed up your circulation, improves dry eyes and helps fade dark circles. It gently delivers heat that warms your muscles and relaxes them effectively while improving blood flow.


Bluetooth Connection
Supports a Bluetooth connection for fast pairing with your cellphone or another device to access your favorite music, bringing up a soothing environment to reduce anxiety and enabling better sleeping quality.


Ergonomic & Comfortably Designed
Along with an ergonomically curved design with 180° adjustable folding, it will fit your face's contours while resting comfortably above your nose. Made with a soft and smooth PU leather material that delivers comfort to the touch, a high elastic headband, and an adjustable buckle that can fit most people.
Advanced Smart Technology

Backed by in-depth research engineers and insight experts

Micro Vibration Massage

Awaken eyes vitality, inside and out

Hot Compress Massage (up to 107.6 F)

It Relaxes and Warms the muscles around the eyes and temples.

Air Acupressure Massage

Uses air pressure massage around the eyes and temple.

Simple One-Touch Navigation

Simple and easy to use.

4 Massaging Modes

Switch between heat, kneading, shiatsu, music, or combine them all.

Bluetooth Music

Add your favorite music for maximum relaxation
6 Adjustable Modes To Choose From
Auto Mode: (Air Pressure + Hot Pack + Vibration + Music) - activate all features to ensure effective relief from eye fatigue and increase blood circulation.

Vitality Mode: (Air Pressure + Vibration + Music) - energizes eyes and promotes blood flow in the eye region.

Clear Mode: (Air Pressure + Hot Pack + Music) - helps provide relief from headaches by loosening tension and relieving soreness around the eyes.

Beauty Mode: (Air Pressure + Music) - reduces the appearance of puffiness and eliminates dark circles.

Sleep Mode: (Hot Pack + Music) - helps relax your eyes by gently delivering a warm and calming sensation, thereby helping you achieve better sleep.

Child Mode: (Child Air Pressure + Hot Pack + Child Vibration + Music) - produces a gentler and lighter effect suitable for children.

The Benefits Of Using Smart Eye Massager
Relieves dry, itchy, and tired eyes
Relieves headaches
Promotes relaxation
Reduces dark under-eye circles and puffiness
Promotes better, more restful sleep
Relieves visual signs of fatigue and pseudo-myopia
How to Use
Press and hold the Primary Button for 2-3 seconds to turn on and enable low heating mode.
Click the Primary Button to switch to medium heating mode.
Click the Primary Button once more to switch to high heating mode.
Click the Primary Button again the switch to the highest temperature mode.
Double click for vibration mode.
Press and hold for 3 seconds to turn off.
Safety tips
Before use, make sure to test the temperature with your hands before using on your eyes.
Don't use the eye massager when it is charging.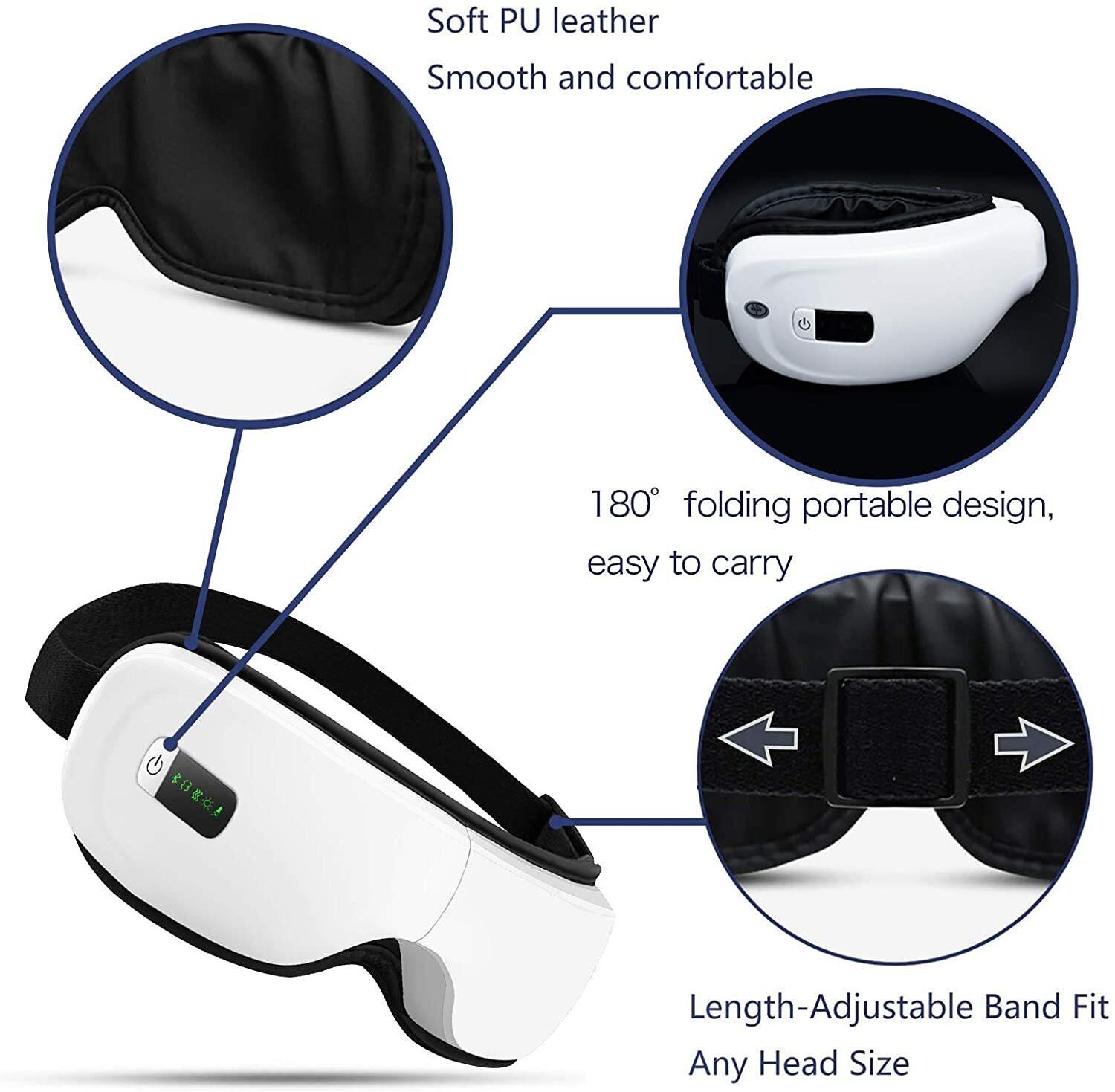 Specifications
 Material: ABS, PU Leather
 Color: White
 Rated Power: 5W
 Rated Voltage: 5V/1A
 Battery Capacity: 1500mAh
 Power Supply: USB Charging(Built-in Rechargeable Battery)
 Product Size(Unfolded): Approx. 22*9.5cm/8.66x3.74inch
 Product Size(Folded): Approx. 16.5*9.5cm/6.49x3.74inch
CAUTION:
1. The smart eye massager is not fit for people with eye disease. Patients who have been through an eye operation or have an ocular disease including glaucoma, cataracts, and retinal detachment are advised to avoid using this product.
2. Patients with a heavy stroke, hypertension, or hypotension should not use this without consulting their doctor or healthcare physicians first.
3. Please be aware of the heating on the surface of the smart eye massager whilst in use.
4. The products will play music automatically when powered on. You can use the volume buttons to adjust this feature.

What Does The Package Include?
 1 x Eye Massager
 1 x USB Cable
 1 x User Manual
Frequently Asked Questions
1. How long does it take to feel relief?
A: The Smart Eye massager provides both immediate relief (in as little as 15 minutes a day) as well as long-term results with repeated use.
2. How well does this work on migraines?
A: Wonderfully. The heating and vibrating functions of the massager are a true savior against migraines and over 60'000+ customers around the world could not agree more.
3. Can I use the massager while wearing contact lenses/ lash extensions?
A: Yeas Our massager is completely safe and easily usable even if you wear contacts. If you do find that it causes you discomfort, we recommend removing your contact lenses for the duration of your massage session. The massager is also usable with lash extensions. 
4. How frequently should I be using this device per week?
A: We recommend using the massager daily or every other day for lasting relief. 
5. Is the massager safe to use?
A: The device is 100% safe to use! Our device has received all necessary medical certifications to be considered a completely safe device for you and your eyes. 
6. How do I clean the Eye Massager?
A: The cloth that touches your skin can be cleaned and sanitized with wet wipes!
7. How does the Bluetooth feature work?
A: The Bluetooth feature is meant for people who want to listen to their preferred music or podcasts while receiving a relaxing eye massage. Just connect your smart device with your massager via Bluetooth and you're ready to go!
Payment & Security
Payment methods
Your payment information is processed securely. We do not store credit card details nor have access to your credit card information.
---
Security