Description
Easy On, Easy Off - Lightweight & Comfortable Concealed Carry Holster
 
The Praetorian Shoulder and Belly Holster For Concealed Carry are made of a breathable neoprene material band to allow heat to pass through. It's extremely comfortable, has a noise-free access design, and works as the perfect all-day carry holster.


✅ COMFORTABLE CARRY: This Concealed Carry Shoulder Holster has solved the comfort issue with a new breathable, perforated, neoprene base that lays softly against the body. Utilizing a new narrow edge design to provide you comfort for extended periods of time. Comfortable for all-day wear. 
✅ VERSATILE CARRY OPTIONS: You can deep conceal your weapons under your arm or under your belly. Its versatile fit lets you use this holster on your chest or on your belly.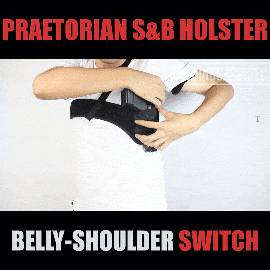 ✅ UNIVERSAL DESIGN FITS ALL PISTOLS: Adjustable strap - perfect for all your needs. This shoulder holster accommodates nearly every compact, mid-sized, and even full-sized compact pistol and pistol on the market. .380, 9mm, 40 Cal, 45 ACP, 38 Special, 357, 10mm, etc. Perfect for small and compact models! Works for Right & Left Hand.

✅ QUICK DRAW AND NO PRINTING: This Concealed Carry Holster allows you to flick up the retention strap with the back of your thumb to draw the firearm quickly and effectively. Also, you can walk, work out, and even run with this shoulder holster. This underarm holster allows you to carry concealed discreetly with no possibility of firearms showing through your shirt (printing).


✅ Vertical Shoulder Holster Design:   Firearm points safely downward instead of horizontally

"If I were to ever need to draw the pistol in any semblance of a hurry, I would be dead..."
✔ Many other holster brands nowadays  don't care about those real-life situations
✔   Their holsters are just too bulky, hard to wear, slow for a gun drawn.
✔  Praetorian S&B Holster
 is the most "natural" and fastest seated drawing holster. 
✔  It's a  
strictly tightened plastic
 band covering your belly, hip or chest, or wherever you want. 
✔  Praetorian S & B's 
quick-drawing design helps prevent the  
"bad guys"
 from any reaction and provides you 3-5 "upper-hand" seconds for your self-defense.
Specification
 Weight: 136g approx
 Size: Fits 45" Bust
 Material: Neoprene
Package Includes
Payment & Security
Payment methods
Your payment information is processed securely. We do not store credit card details nor have access to your credit card information.
---
Security