Description
HEAT YOUR CAR WITHOUT RUNNING YOUR ENGINE WITHIN 30 SECONDS!
Our 12V Car Heater not only helps keep your car warm and cozy during the cold winter months, but it also helps defrost your windshield and windows when there's ice covering them!
You'll have an improved, clear view in no time! And for the hot summer months, it also doubles as a cooler! Quickly cool down your hot car with its built-in cooling function!
Within 30 seconds, you can heat the atmosphere of your car without having to wait for the engine to warm. warm your winter, so you can safely and comfortably get on the road and get to your destination.
Heating and cooling function
Built-in fuse, power-off protection, and anti-voltage
Convenient and easy to use
Great fight for family and friends
100% safe and quick to use 
It can be rotated 180° for free adjustments
Quickly heats the air or used as a fan to cool you in the summer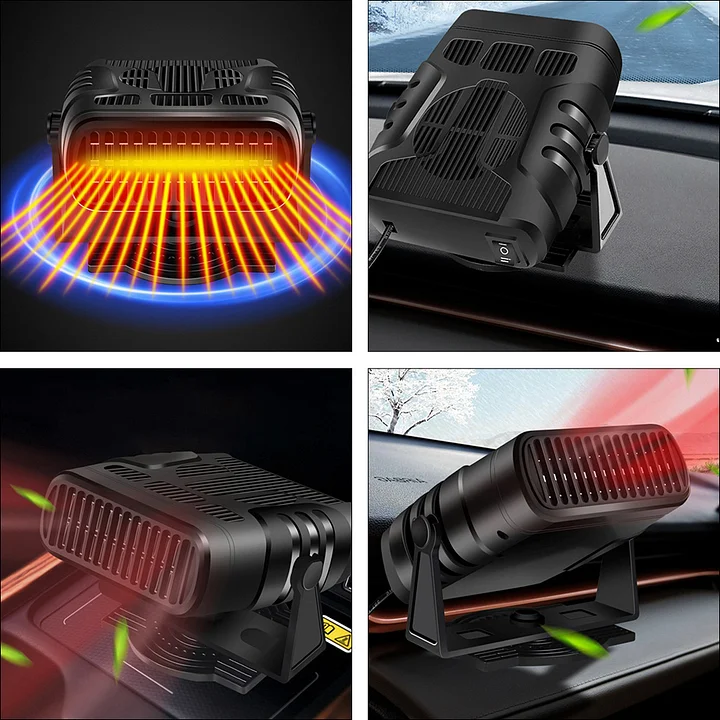 Features
EFFICIENT HEAT
It can quickly be heated within one minute, efficient heat dissipation design, keep you warm all the time. If you're delayed in a traffic incident, you can also stay warm without running the engine.
HEATING QUICKLY
This car heater can quickly heat the air without having to wait for your engine to warm up. It uses your car's cigarette lighter socket and allows you to defrost or de-mist your windows quickly and efficiently, so you can safely and comfortably get on the road and get to your destination.
EASY TO INSTALL
Plug the heater into your cigarette lighter socket and switch to heat or fan (make sure your car has a 12V lighter port). It comes with a 360-degree rotary holder which can be used for easy adjustment. It can be fixed on the anti-skid pad or fixed with double-sided adhesive.
HIGH QUALITY
Made with ABS material, with its great design and quality cable, there are no fragile parts. Built-in fuse, automatic power failure protection.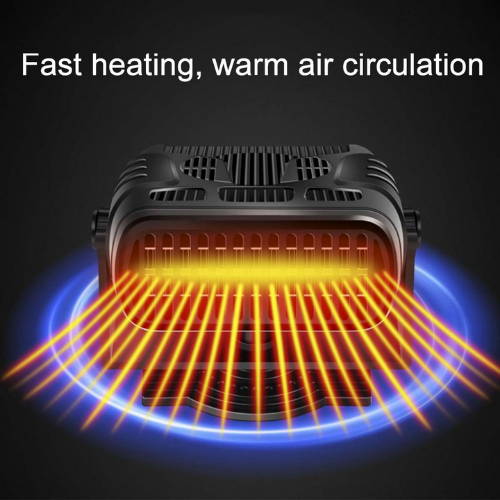 Benefits
The 12v heater will defrost your windshield and prevent blurred vision by producing a better line of sight. 
Made of high-quality Abs plastic
With air purification, purify the air inside the car
Useful for speeding up demisting and defrosting
360° Rotating holder, adjust to your ideal angle
Easy to use, just plug it into your cigarette lighter socket to remove frost from the windshield
Circuit made of lengthened and strong copper cable, heats efficiently, no harm to a car battery or car circuit
Available throughout the Year: adjustable wind mode. This car fan has two winds. You can use fan mode in the summer and heat in the winter. Available all year round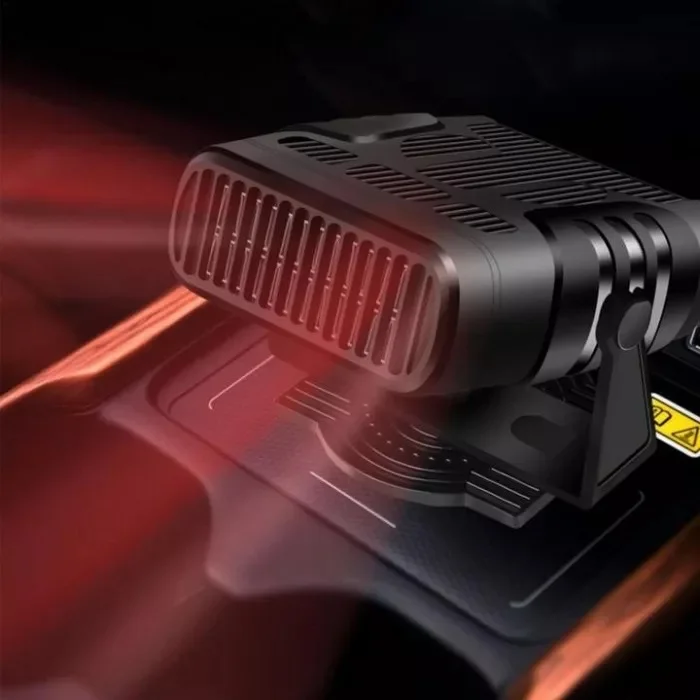 Customer Review
So it is very simple to use and gives a nice amount of air to help me clear my windows faster from the condensation and then keep the car warmer on these frosty mornings." 
Travis
 W.

Specifications
 Material: ABS
 Dimensions: 4.72''(12cm) x 3.94''(10cm) x 2.83''(7.2cm)
 Color: black
 Voltage: 12V
 Power: 500W
Payment & Security
Payment methods
Your payment information is processed securely. We do not store credit card details nor have access to your credit card information.
---
Security