Description
You have a wonderful smile and you want to keep those lovely healthy teeth for as long as you can, right?
Improve your dental health and achieve a cleaner, fresher mouth with the Spotlight Oral Care

Water Flosser

Teeth Cleaner.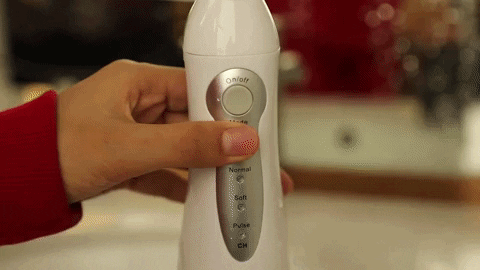 Utilising a combination of water pressure and various pulsations, this Water Flosser removes bacteria from deep between the teeth and below the gum line where traditional brushing and flossing cannot reach, whilst stimulating gums to improve circulation. 
What is Water Flossing?
It's a different approach to flossing than that of traditional string floss. 
Water flossing is the simple act of using a jet of water that uses pressure to rinse away food debris and accumulated plaque films from your gums and teeth. 
It's not an alternative to traditional regular flossing. But rather an additional step to ensure the removal of any remaining particles after brushing and normal flossing.
Benefits
Clinically proven up to 50% more effective than traditional dental floss and up to 80% more effective than Sonicare® Air Floss (Model HX8181) for improving gum health.
Proven in laboratory tests to remove up to 99.9% of plaque from treated areas with a 3-second application.
Clinically proven up to 3X as effective as dental floss for cleaning around braces with the Orthodontic Tip.
Removes bacteria deep between teeth and below gumline where brushing and traditional flossing can't reach.
Massages and stimulates gums to improve circulation and keep your gums strong and healthy.
Great for people with implants, crowns, bridges, and veneers.
Leaves your mouth feeling incredibly fresh and clean.
Features
Water pressure of 80-160 PSI.
Easy to fill, 190ml water tank.
Includes 4 various tips - tongue scraper, orthodontic spray tip, periodontal pocket sprinkler, classic jet tip. 
3 operating modes - normal/soft/pulse to suit individual needs.
It will remember your last chosen mode.
Ergonomically designed with a 360 rotating nozzle making it super easy to use.
Compact, cordless and rechargeable making it super easy to carry anywhere with you.
Who should use a water flosser?
People with braces, bridges, implants, crowns, periodontal pockets.
Suitable for anyone who wants a cleaner, fresher mouth.
How to Use It
Always read the instructions of the ​unit before using it.
Fill the reservoir with warm water.
Connect it to the electricity outlet if needed.
Lean over the sink to avoid water spilling.
Hold the tip and adjust the pressure control to your liking.
​Start with the lowest degree and increase as you see fit.
Insert the nozzle tip in your mouth and close your lips.
Start with the back teeth, press the button, and start flossing.
Make sure to spray between all your teeth.
Repeat for both the upper and lower teeth lines, massaging your gums with the stream as you do so gently.
Let the water slip between your teeth into the sink.
Repeat daily.
Package Included:
1 * Oral Irrigator Handle
3 * Classic Nozzle
1 * Tongue Scraper
1 * USB Charging Cable
1 * User Manual
Payment & Security
Payment methods
Your payment information is processed securely. We do not store credit card details nor have access to your credit card information.
---
Security