Description
Want to gain a more comfortable motorcycle experience? Any rider knows that the longer you sit on a motorcycle the less comfortable it becomes, Here is your solution...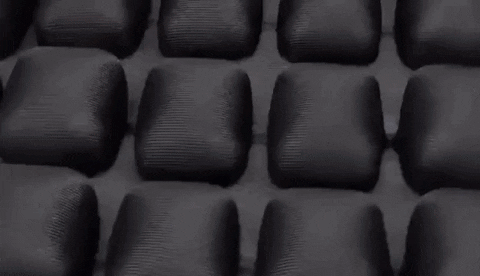 Our motorcycle seat pads will ensure you gain the best experience with maximised comfort. No more making your body exhausted due to the strong vibrations and the punctual pressure on the cycle.
Our anti slip motorcycle seat cushion is a convenient and affordable solution to the problem. This air seat cushion protects your back, and impressively increases your posture during bike rides. Our seat cushions will allow you to enjoy your ride from start to finish whilst ensuring you are not prone to back or bottom pain.  
This seat cushion is a universal size and is made up of interconnected air cells which help transfer air between the chambers. Conveniently, the air filling is also adjustable as air can be pumped in just by inflating it. The air helps to distribute the body weight equally and ensure a smooth surface.
Our comfortable air cushion will absorb any sort of additional vibrations and shocks, resulting in a hugely reduced amount of transmissions which will give the driver longer hours comfortably. Especially optimised in longer tours. This also works in helping to prevent any numbness or circulatory disorders in bikers.
Another added bonus is our seat cushion reduces any moisture build up. This is due to the resistant polyurethane material that it's built of.
Highlight Features:
Pressure Relief - Pumped with air which effectively absorbs vibrations/shock & promotes comfort.
Cooling Effect - Groove design to help keep your seat cool even when seated for a long duration.
Refined Design - Anti slip particles & double bandage fixation for stability and control. 
Specifications:
Material: TPU + Lycra
Size: 39 x 36 x 2.5cm
Weight: 120g
Colour: Black


Recommended Tips:
Avoid touching any sharp product.
Keep away from high temperature.
Don't inflate on it.
Wash the seat by hand. Do not use the washing machine.
Package Includes:
1 x Motorcycle Air Seat Cushion
Cover NOT Included
OUR Guarantee
-14 Day Money Back Guarantee: We have you covered - Any issues? We'll return your money back to you, effective immediately upon return!
-24/7 Customer support
: You can contact us at anytime and we will get back to you! See more at our 
Contact Us
page.
-Easy Returns
: Our
3 STEP 
return setup makes it fast and super easy to return your item and get your money back!
1. Contact Us 
2. We issue your return label 
3. You send it Off & receive your money back within 3-5 working days! 


Customer Support
We value our customers hugely and are proud to offer outstanding customer service.
Any queries? Just get in touch with us by email at: hameeddirect@gmail.com - we're always here to help or have a chat.
Payment & Security
Payment methods
Your payment information is processed securely. We do not store credit card details nor have access to your credit card information.
---
Security