Description
A fingertip pulse oximeter for personal use. Get your blood oxygen concentration level and pulse in under 10 seconds.
Monitoring your pulse rate and the blood oxygen levels in your body is a procedure that's essential to tracking your overall health and well-being. Rather than visiting a clinic to get checked every time, simply pop the Roscoe Medical Pulse Oximeter on your finger for an accurate reading instantly.
Accuracy & Reliability
While a pulse oximeter is not intended for medical use, it is the simplest and most convenient way to detect and monitor vital signs before and after any strenuous activity, such as a workout at home or in the gym, or sports such as running, cycling, basketball or tennis.
With that said, having an accurate and reliable pulse oximeter is a must, that's why we made the Finger Pulse Oximeter! This dual-color oximeter can accurately measure SpO2 and PR levels within 8 seconds and displays the information in real-time on a bright, OLED two-color display.
Simple Operation 
It doesn't have to be complicated! The Finger Pulse Oximeter is easy to use and has an efficient one-button operation. Once turned on, just insert your finger and it does the reading automatically!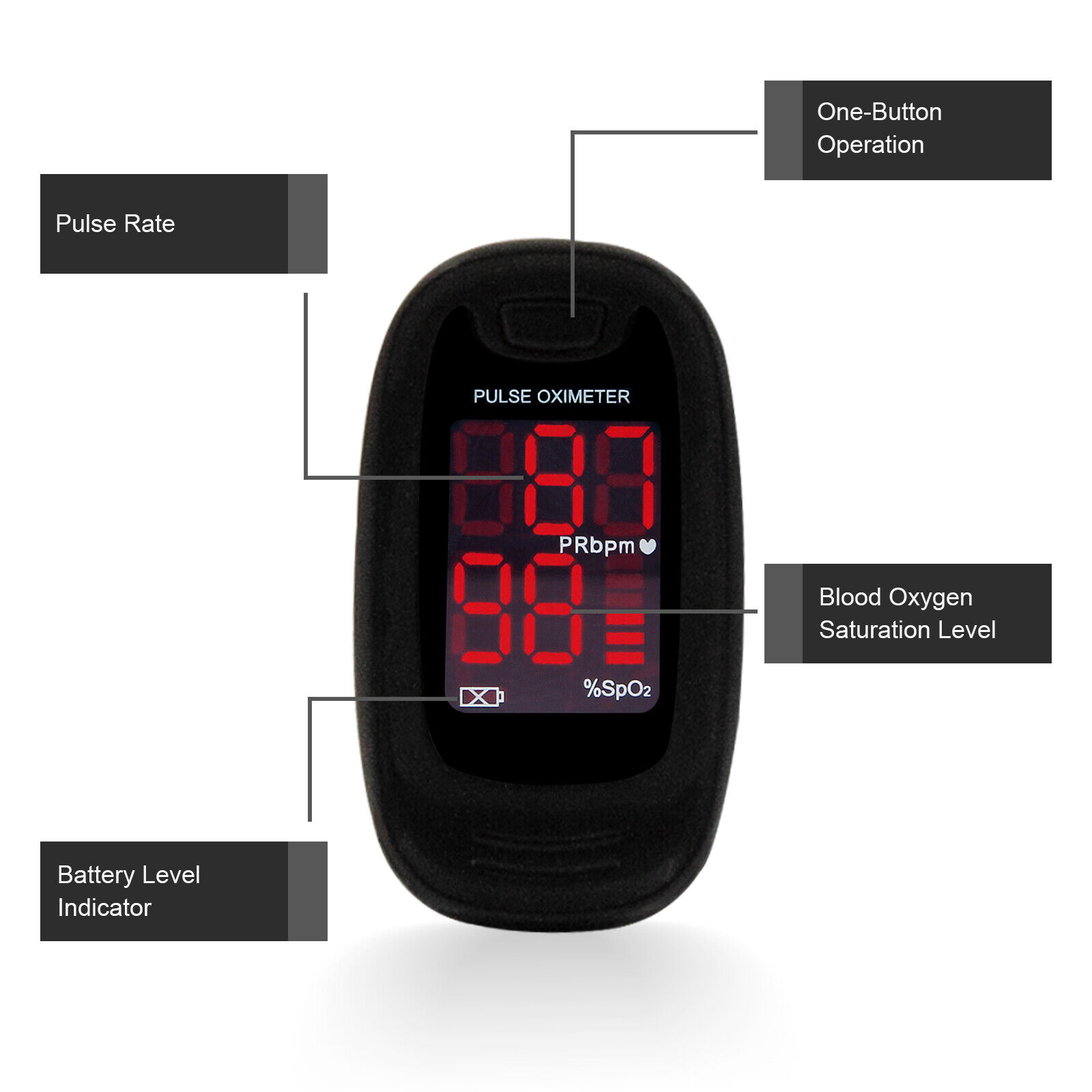 Rechargeable Lithium Battery 
Avoid the trouble of frequent battery replacement, all thanks to this pulse oximeter's built-in and rechargeable lithium battery. The device automatically shuts down after 8 seconds when not in use. Due to its low-power consumption, a one-time charge can last for more than 6 hours, and you never have to second guess when to charge it, thanks to the on-screen battery indicator.
Multiuse 
This oxygen saturation finger monitor can be used as a pediatric pulse oximeter for children as well as a blood oxygen monitor for adults. It's also perfect for sports and aviation use and will be a great tool for mountain climbers, bikers, trainers, aviators, and general sports enthusiasts as it allows them to spot-check SpO2 on the fly. It is compact and easy to carry and comes with a carry-on case and USB charging cable.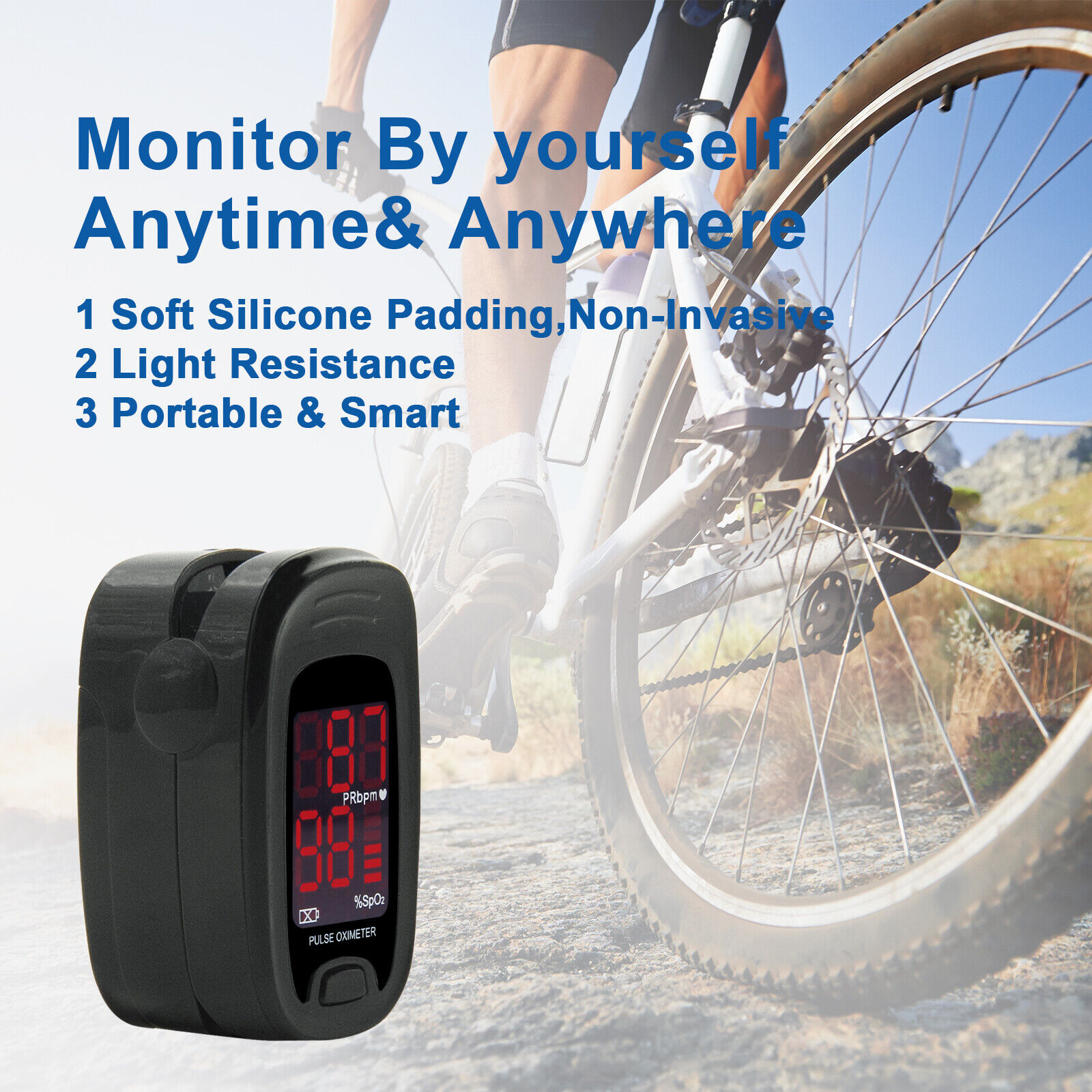 Features

Can measure SpO2 and Pulse Rate accurately 
SpO2 and pulse rate display, bar graph display
Battery voltage low indication
Shutt off automatically when no signal
Specification
 SpO2  measurement range: 0%~100%
 Accuracy: 70%~100%: ±2%
 PR measurement range: 30bpm~250bpm
 Accuracy: ±2bpm or ±2%,  whichever is greater.
 SpO2: 1%
 PR: 1bpm
 Working current:  ≤25mA
 Power supply: two "AAA" batteries
 Safety classification: type BF  applied part
 Dimension: 57mm(L) × 34mm(W) × 31mm(H)


Measurement  Performance in Weak Filling Condition: SpO2 and pulse rate can be shown correctly when the pulse-filling ratio is 0.4%. SpO2 error is ±4%, pulse rate error is ±2 bpm or ±2%, whichever is greater.

Resistance to surrounding light: The deviation between the value measured in the condition of man-made light or indoor natural light and that of the darkroom is less than ±1%.



Payment & Security
Payment methods
Your payment information is processed securely. We do not store credit card details nor have access to your credit card information.
---
Security