Description
Master the perfect golf swing with our Golf Whip Swing Training Aid!
Simulate the golf training you'd put on the field easily and accurately at home with the Golf Swing Trainer Aid that helps develop control, accuracy, tempo, and overall power
The Golf Swing Trainer is the ideal tool to perfect your swing so you can get the score you want, every time you step onto the course.
Use it when or warm-up before a game and get a low-impact stretch for easier mobility. With a weighted head made of durable polyurethane and a flexible fiberglass shaft, You will build muscle and power with every swing.
Work the fundamental core golf muscles, and tone your obliques as you gain muscle memory.
Easiest to use for most seniors, women, and teens.
Provides core fitness and flexibility.
Ideal for pregame warm-up, short game training, rhythm, and balance.
Perfect for indoor use.
Weighted and counter-weighted design created to improve golf swing rhythm and help keep arms in sync with the body.
Simulates a wedge motion for men, women, and teens.
This weighted golf swing trainer develops balance and tempo because the user must wait for the momentum to gather. Also, the development of flexibility and range of motion is greater as compared to the other Whip versions. The Whip Golf Swing Trainer's extra length encourages more patience in the transition to avoid the "quick" swings and the common "over the top" swing fault.
Benefits of using our Golf Swing Trainer
Ready for Beginner or Advanced level golfers
Develop Core Golf Muscles Quick
Develop An Effortless, Balanced, And Rhythmic Swing
Build Muscle Memory And Strengthen Your Swing
Build Confidence In Your Swing With Our Master Lag Technology
Great Warmup Tool Before Rounds
Features
Highly Recommended:

 

The Golf swing trainer has been voted #1 Teaching and Training aid by PGA and LPGA Professionals for a reason: it is simply the best. The shorter length is ideal for indoor use and the lighter swing weight will accommodate almost every golfer.
Patented counterweight system:

 

the golf swing trainer increases your flexibility and strengthens your golf muscles through its proprietary weighted and counterweighted system. there is nothing else like it! Improve your range of motion while avoiding injury. Strengthen your swing power while maintaining control.
Simulates Athletic swing:

 

the flexible shaft coordinates the rhythm between your arms, upper body, and lower body. Swing over and over to develop your own tempo and balanced swing for consistent shots on the golf course.
Instant feedback:

 

any wobble in your swing indicates a need to improve tempo and balance. Receive instant feedback with each swing!
Convenience:

 

Suited for both right-handed and left-handed players. Quickly gain confidence and perfect your technique in golf.
Build confidence in your shot: Build muscle memory and strengthen your swing. Our Master Lag Technology will help build the core muscles needed to become a Par Master in Golf.
Develops your Temp:

 

When you sw

ing the golf trainer repetitively, it creates a low-impact stretch to increase flexibility and range of motion. The exaggerated flex allows for a lag during your backswing to help find your tempo. Use this easy training aid 10-20 times a day to improve your game, which could be in a golf club, your personal garden, or a living room or office with enough space.
High-Quality Material:

 

Made by high-quality material, this golf trainer aid is durable, strong, and made to last. Whether you're a competitive golfer or play leisurely with friends, this sports equipment is a perfect choice.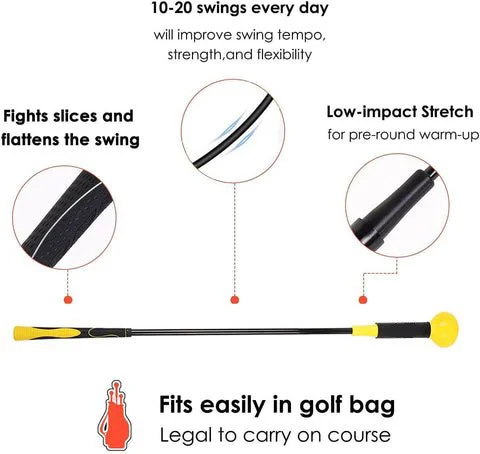 Size Guide - Utility 
The 48-inch Golf Whip Training Aid is recommended for individuals 5'6" or taller, or those who are stronger and more advanced in their golf game.
Longest version and most physically demanding.
Designed for men and women over 5'6 in height.

 

As the ability of the golfer increases, the height of the user becomes less of a factor.
Most similar to swinging a driver.
The 40-inch Golf Whip Training Aid length is ideal for those who are under 5'6" or who are at a beginner or intermediate level.
Easiest to use for most seniors, women, and teens.
Provides core fitness and flexibility.
Most similar to swinging a long iron or hybrid.
Smaller grip size, lighter in weight, and shorter in length than the standard trainer.
Simulates full swing motion for junior players.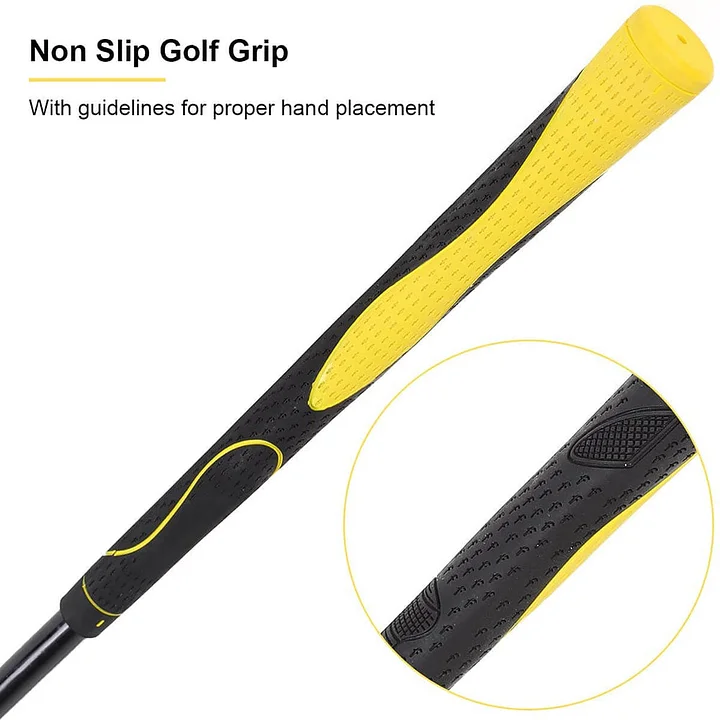 Specifications:
• Color: Black, Yellow, Red, Blue
• Diameter of the Head: 7.5cm
• Dimensions: Small 40in | Large 48in
Package includes:
• 1 x Golf Swing Trainer Aid for Strength and Tempo
Payment & Security
Payment methods
Your payment information is processed securely. We do not store credit card details nor have access to your credit card information.
---
Security